NIEUWSBRIEF 10 januari 2021
The Woolbag
Service met een glimlach ~ Service with a smile
Voor (bijna) al je cadeautjes ~ For (almost) all your presents
Om op de hoogte te blijven ~ To stay posted:
http://www.thewoolbag.com/nieuwsbrief

The Woolbag, borduren, handwerken en veel meer.
-.-.-.-.-
For English please scroll down or have a look at our English website.
-.-.-.-.-
Altijd betaalbare cadeautjes.
Kijk ook naar de GRATIS artikelen, ze zijn de moeite waard.
GRATIS artikelen bij de bestelling - Free items | The Woolbag
-.-.-.-.-
Nieuwbrief, 10 januari 2021
.-.-.-.-
Allereerst de allerbeste wensen voor 2021
Dat het een fijn handwerkjaar mag worden.
.-.-.-.-
Er worden dagelijks artikelen afgeprijsd,
de moeite waard om in de gaten te houden.
.-.-.-.-
Gratis patroon voor januari:

Hier staat de link naar het patroon:
https://www.thewoolbag.com/a-51331640/
-.-.-.-.-
Neem een kijkje bij de GRATIS artikelen ze zijn zeer de moeite waard.
Kost je een paar tellen.
Je vind de gratis artikelen hier:
https://www.thewoolbag.com/c-4984492/gratis-artikelen-free-items/
-.-.-.-.-

-.-.-.-.-
Newsletter: Januari 10th, 2021
.-.-.-.-
First of all a Happy New Year for 2021
Hopefully it will be a creative and happy year.
-.-.-.-.-
The Woolbag, embroidery, crafts amd much more.
Always a present for your purse.
-.-.-.-.-
Free pattern for Januari:

You will find the free pattern here:
https://www.thewoolbag.com/en_GB/a-51331640
-.-.-.-.-
Have a look at the FREE presents, they are worth-wile.
Daily we reduce prices, keep posted.
Just have a peek at our free items, takes you some seconds.
You will find the items here:
https://www.thewoolbag.com/en_GB/c-4984492/free-items/
-.-.-.-.-

-.-.-.-.-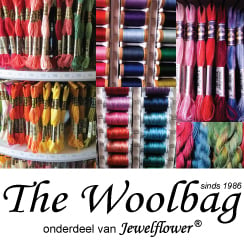 Taalkeuze