The Woolbag, 23 september 2022 - Bijzondere mededeling - Special announcement
The Woolbag
Service met een glimlach ~ Service with a smile
Voor (bijna) al je cadeautjes ~ For (almost) all your presents
Om op de hoogte te blijven ~ To stay posted:
http://www.thewoolbag.com/nieuwsbrief

The Woolbag, borduren, handwerken en veel meer.
For English please scroll down or have a look at our English website.
Nieuwbrief, 23 september 2022
Na meer dan

35 jaar

gaat de (web)shop definitief dicht

.
Definitieve sluitingsdatum

27 maart 2023
Als verrassing gaat de winkel op een laag pitje door
de komende 6 maanden
Je boft want het contract bij de provider loopt nog een half jaar door.
Afhalen is uitsluitend mogelijk NA afspraak

.
De komende 6 maanden worden de bestellingen
slechts één- of tweemaal per week verzonden.
Voor vervoer wordt helaas wél de werkelijke prijs berekend.
De prijs op het moment van bestellen is de prijs die je betaald.
Let op!!! Meestal is er slechts één artikel aanwezig
OP = OP
Direct nadat je de bestelling hebt afgerond krijg je een betalingsverzoek,
compleet met alle benodigde gegevens.
.
Alleen als je buiten Nederland of België woont ontvang je - later - een ander verzoek.
---
The Woolbag, embroidery, crafts amd much more
Newsletter: September 23rd 2022
After over 35 years the (web)shop will finally close down.
Final closing date

March 27th, 2023
As a surprise, the store will be on the back burner for
the next 6 months
You are lucky because the contract with the provider will continue for another six months.
In the coming months, orders will only
be shipped once- or twice a week



If you live outside The Netherlands, or Belgium, than please wait untill you get a request about paying.

(for transport the real price will be charged).
The price at the time of ordering is your price.
For transport we have to charge the price we pay, sorry
Attention!!
Of most items there is just one in the webshop, finished = finished!
Immediately after you have completed the order you will receive a
payment request, complete with all necessary information.
.
Only if you live outside The Netherlands or Belgium you will receive
- later - a different payment request.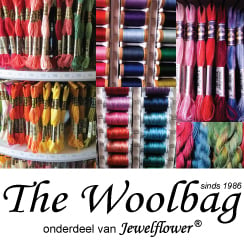 Taalkeuze