-25%
Handeze - Glove - size 6 - slate
€ 17,50 € 13,15 (including VAT)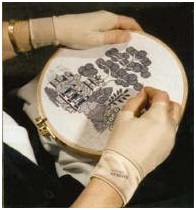 Handeze Energising and Therapeutic Support gloves have been specifically designed through ergonomic research and are user proven to help alleviate the pain related to Repetative Strain Injury, Hand Fatigue, Stress Related Injuries, Arthritis, Poor Circulation, Tendonitis and Carpal Tunnel Syndrome.

Raises the blood temperature in the wrist.
Gives support to the flesh and muscle structure of the hand and wrist.
The four way stretch Lycra material produces an automatic massaging and energising effect.
The more you work, the more they massage.
Available in Slate Grey, Beige, Black or Pink.
FLEX-FIT gloves now available. The standard Handeze glove with an adjustable wrist strap for extra wrist support.
First, determine the size of glove you require: -
1. Take a piece of paper, place your hand along the edge of the paper as shown by the diagram below.
2. Make a mark in line with your knuckles on the paper. (Most woman fit into size 2-4).
3. Measure the distance between the edge of the paper and the mark you have made and use this measurement to make a selection from the table below.